---
Festivals in the city
In this month this celebration is made in honor to the fruit and their producers, the election of the Watermelon Queen and the award of the bigest, the sweetest abd the better fruit.-

Also a folkloric festival is made, with the performance of local values.
With the parade on the Mitre Avenue of legendary comparsas Carú Curá (" green Stone " in araucano) and Yasi Berá (" shining Moon " in guaraní) with more than thirty years of prestige.

These comparsas are distinguished to make choreographical and theater shoes, they have groups of mixed dances, in addition to their outstanding feminine figures.

Shows of choreography is made in the clubs stages
Annual match of fishing that has been made for 15 years in the first days of March, organized by the Nautical and Fishing Club of the city.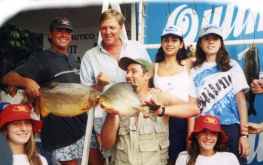 The day 22 of May, is the day of our holy Saint Rita of Casia, with masses to 6, 8 and 10 in the morning, at 16 hs. a procession is made that finalizes in the vestibule of the parish and beginning to the last mass of commemoration occurs our miraculous Saint.
---
Cover - History - Tourism - Lodgings - Festivities - Economics
---
For mistakes in translation please contact
edgardo@rebechi.com.ar
Copyright
Edgardo Luis Rebechi (h).